Palmer Lake "The Joint Line" Train Pix Index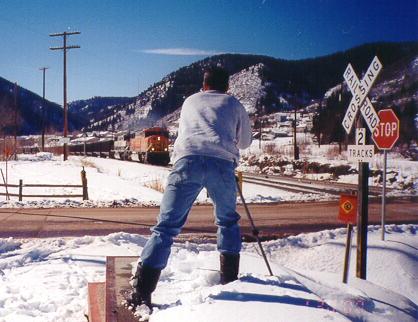 Aeromoe shootin' at Palmer Lake on 31 Jan 2000. A northbound empty coal train approaches the unguarded level crossing at the north end of the lake. The lake is to the left (east) in this photo taken by M/M


---
My last day in Colorado before heading east was 7 Feb 2000. I was originally planning on just heading east from Denver on I-70 but with the weather so crystal clear for yet another day, I couldn't pass up the opportunity to hit the lake one last time. I was hoping to catch a photo of a southbound BNSF "pumpkin" snaking its way around the curve a couple miles north of "the lake." Well as luck would have it, I passed through Larkspur after leaving southbound I-25, under the old Santa Fe bridge on the southbound track, past the turn-off for Greenland and what do I see but the tail end of a coal train. Try as I might on the bumpy county road, I just missed meeting the head end of the train at the spot I was aiming for!! Continuing on to the lake, I was VERY SURPRISED at the scene that greeted me. Between the two tracks at the north end of "the lake" I found a selection of rail cars stacked next to each other; others still on their sides; and to my surprise three Amtrak "Northeast Direct" passenger coaches. The wreck crew was in place cleaning up the derailment that apparently took place about 9pm the previous evening. (I don't have any official time or cause of the incident - comments welcome.) There was no sign of the motive power and I have no idea what was involved or how it happened. Many of the railcars were lettered BN but I'll make no assumptions as to what was dragging the unlucky manifest.

Aftermath photos of the 6 Feb 2000 derailment:



View looking northwest - 3 Amtrak coaches are visible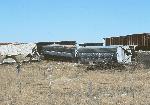 Local news media were covering the scene...


Closer view of Amtrak coach '20041'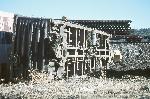 Bottom of BN gondola '560465'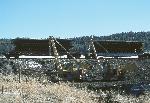 Part of the track-replacement crew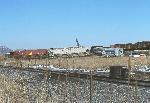 General view looking northeast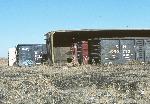 Several of the other railcars involved


---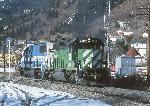 Typical BNSF helpers for the drag from below Castle Rock to "the lake." These are highballing it back north to help yet another loaded coal drag "make the grade."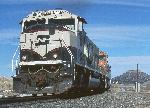 Three SD70MACs on the point of a loaded coal train make short work of the decent grade at Greenland. Of course, the helpers ARE there for a reason...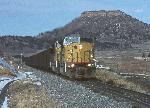 The Union Pacific doesn't bother with less-poweful helpers assisting their coal drags. They just put 2 large units up front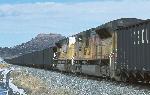 In the middle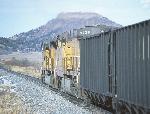 And on the tail end.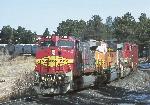 At a level crossing just south of Monument


More scanning to do - more pix to come!!

"In Tha House" Pix Index
"On The Road" Pix Index
"The Ski Train" Pix Index
California Central Rails "excellent" Links page

---
Airlines
Home